Posted by Gemma Lawler
August 8th, 2016
Love to sing? Want to join a choir?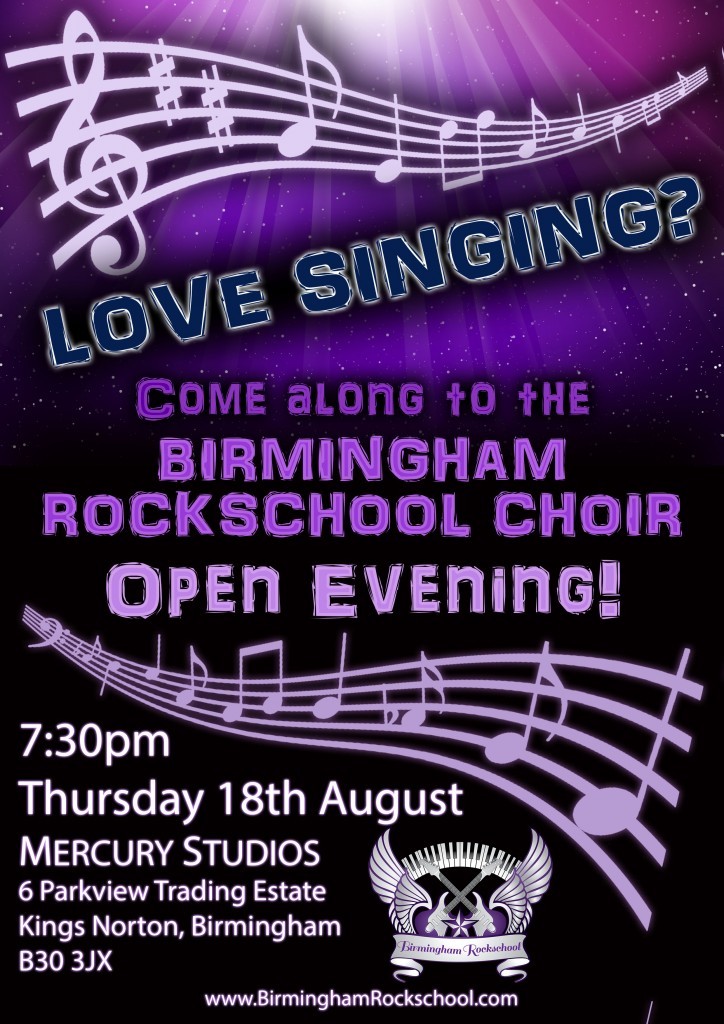 Birmingham Rockschool Choir is a contemporary singing group focussing on fun rather than formality! If you love to sing but are put off by sheet music and old-fashioned songs then the BRC might just be perfect for you!
We are holding a free open evening at our studio in Kings Norton on Thursday 18th August for anyone who would like to come and see what we are all about! All ages and abilities are welcome, there are no auditions and anyone who loves to sing is welcome to come along and join us.
We perform an uplifting mix of rock and pop music from classic anthems to chart hits all specially arranged for group singing. All songs are taught by ear, so you will be reading lyrics not libretto and although there are plenty of opportunities for solos, we never single anyone out of the group unless they explicitly want to!
We have our own stage including lighting and a full PA (with plenty of mics!) and rehearse and perform with a full rock band!
If you, or someone you know, would like to get involved you are welcome to just turn up on the night!
You can RSVP to our Facebook Event here.
If you have any questions you can get in touch at Gemma@Birminghamrockschool.com or on 07912 647260.
You can find us at the Birmingham Rockschool studio which is just behind the Toby Carvery and the Tower of Song in Cotteridge/Kings Norton, a short walk away from Kings Norton Train Station.
Birmingham Rockschool – Mercury Music Studios
Unit 6 Parkview Trading Estate
Kings Norton
Birmingham
B30 3JX
Gemma@Birminghamrockschool.com
www.Birminghamrockschool.com/birmingham-rockschool-choir