Posted by Gemma Lawler
March 15th, 2018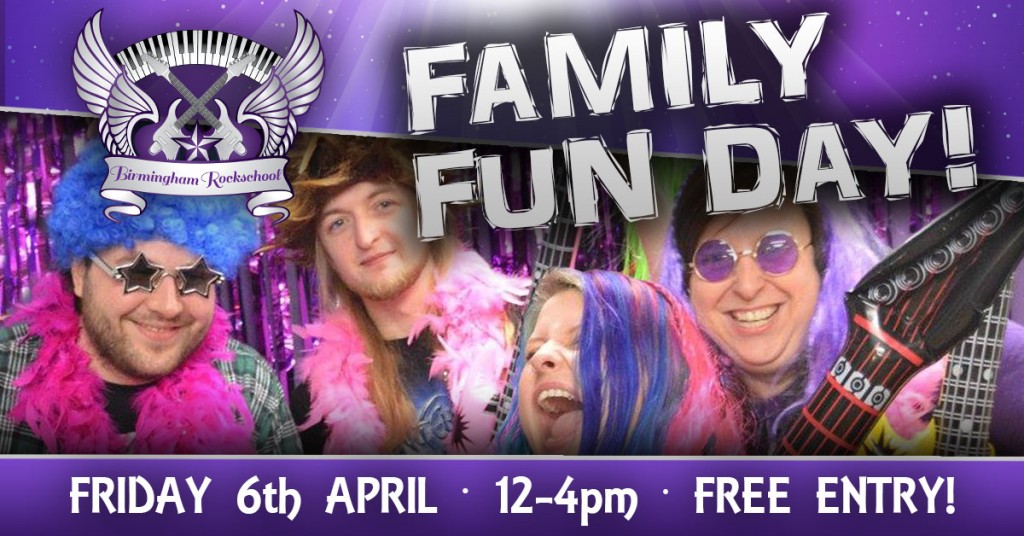 This April we will be throwing our doors open and inviting everyone to join us for our annual Family Fun Day!
We would like to invite our students, friends, families and members of the public to come to the Birmingham Rockschool Studio for a host of fun activities including
– Free music taster lessons
– Jam sessions
– Rockstar Photobooth
– Group singing sessions
– Mini-performances from our students and tutors
…and much more!
We think everyone should have the chance to be a rock star – even if it's just for an afternoon – so even if you've never picked up an instrument before you can come and have a go! It's also a great opportunity for our current students to try out at a secondary instrument and for parents and siblings to come and see what all the fuss is about!
Do you have friends who you think would love to try their hand at an instrument? Bring them along and show them just how much fun it is learning and jamming at Birmingham Rockschool! Don't forget that if they sign up for lessons we give you a £20 thank you for referring them!
Refreshments and nibbles (and most importantly cupcakes!) will be provided, and all are welcome!
You can just show up on the day, however if you would like to book an instrument taster lesson we ask that you contact us to book a space, as last year was so busy we would like to make sure everyone gets to try everything!
Please get in touch on 07912 647260 or at Info@Birminghamrockschool.com to book your places!
Keep Rocking' \m/
Sharon & Gemma
Birmingham Rockschool