Posted by Sharon Hughes
August 4th, 2021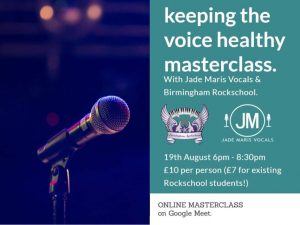 The two and a half hour session will cover an array of topics including:
-common misconceptions
-healthy habits to develop to look after the voice (and what to avoid!)
-staying hydrated
-the body as an instrument
-how to warm-up efficiently (and cool-down)
-developing proper breath support
-responding to your body (and knowing your limits)
The masterclass will involve light stretching, singing and interactive discussion.
What you need:
– a phone/tablet/laptop with internet connection
-a straw (any kind will do- optional!)
-some water
-yourself!
The masterclass will take place using Google Meet, you can sign up for a free account here: https://meet.google.com/
Full event info can be found here: https://www.facebook.com/events/378934573851094?ref=newsfeed