Posted by Sharon Hughes
April 28th, 2021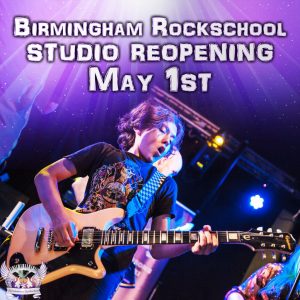 We are very excited to announce that our Birmingham Rockschool studio will be re-opening for socially distanced lessons from 1st May.
We are currently in the process of building our new schedule for students who want to return to studio lessons, and we do have a very limited number of studio places for new starters available, so make sure you get in touch soon if you would like to book a free taster session!
We just can't wait to hear music in the studio again and are so excited to see our wonderful students and families! We'd like to take this opportunity to thank you all again for your amazing support over the last twelve months – onwards and upwards!
Gemma, Sharon & The Birmingham Rockschool team