Posted by Gemma Lawler
January 20th, 2018

10 years ago in February 2008 we opened our doors as two part-time floating music schools in the Solihull area, opening for only six hours a week. From the very first session, we knew that this would be a lifelong labour of love, and there was nothing else in the world that could ever be as much fun as our little music school! Fast-forward to 2018 and we have our own purpose-built teaching studio in a thriving music complex with a recording studio and rehearsal facilities, two fantastic choirs, 27 huge rock shows performed at venues all over the Midlands, almost £10,000 raised for charity and music lessons and activities seven days a week!
We want to thank every single person who has been a part of this journey, the hundreds of students who have passed through our doors, and the thousands of friends and family members who have supported their hard work! We have had the privilege of working with so many incredible musicians on our tutor team, and can honestly say the past 10 years of Birmingham Rockschool have been an absolute privilege!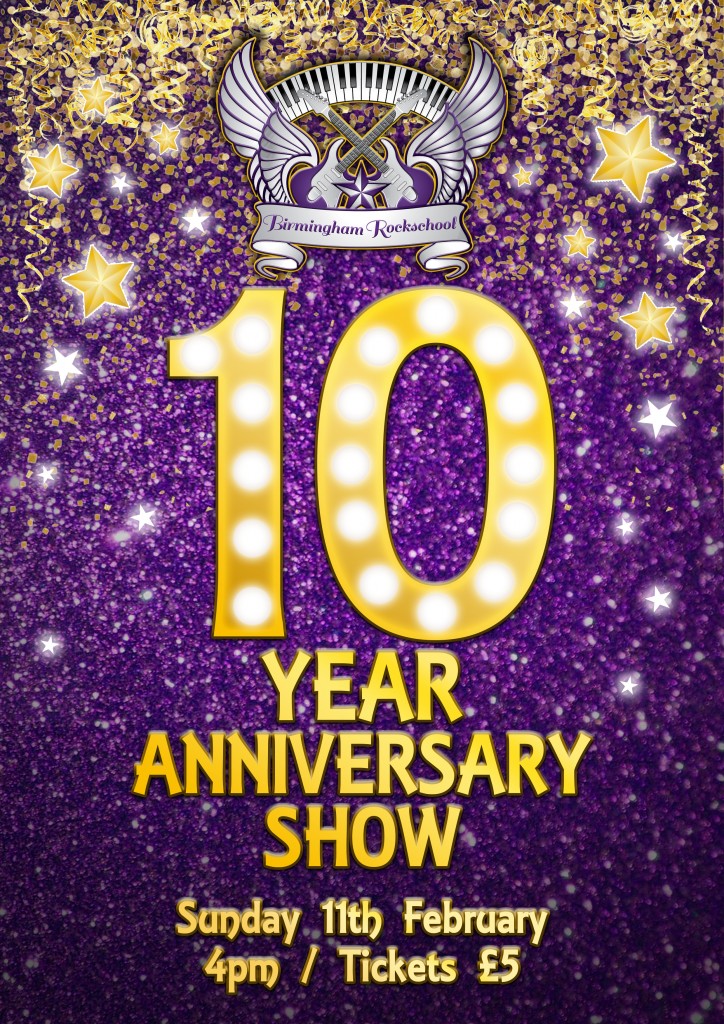 We will be celebrating 10 glorious years of fantastic music lessons at Birmingham Rockschool with an evening showcasing the musical highlights of the last decade! An A-Z of treasured memories (plus one or two bonus songs!) at The River Rooms in Stourbridge on Sunday 11th February 2018.
We'd like to extend an invite to students, tutors and friends past and present to come along and join us for the party of the decade!
Tickets cost £5 and are available on the door only.
Facebook Event Link
All our love
Sharon & Gemma