Posted by Gemma Lawler
April 29th, 2015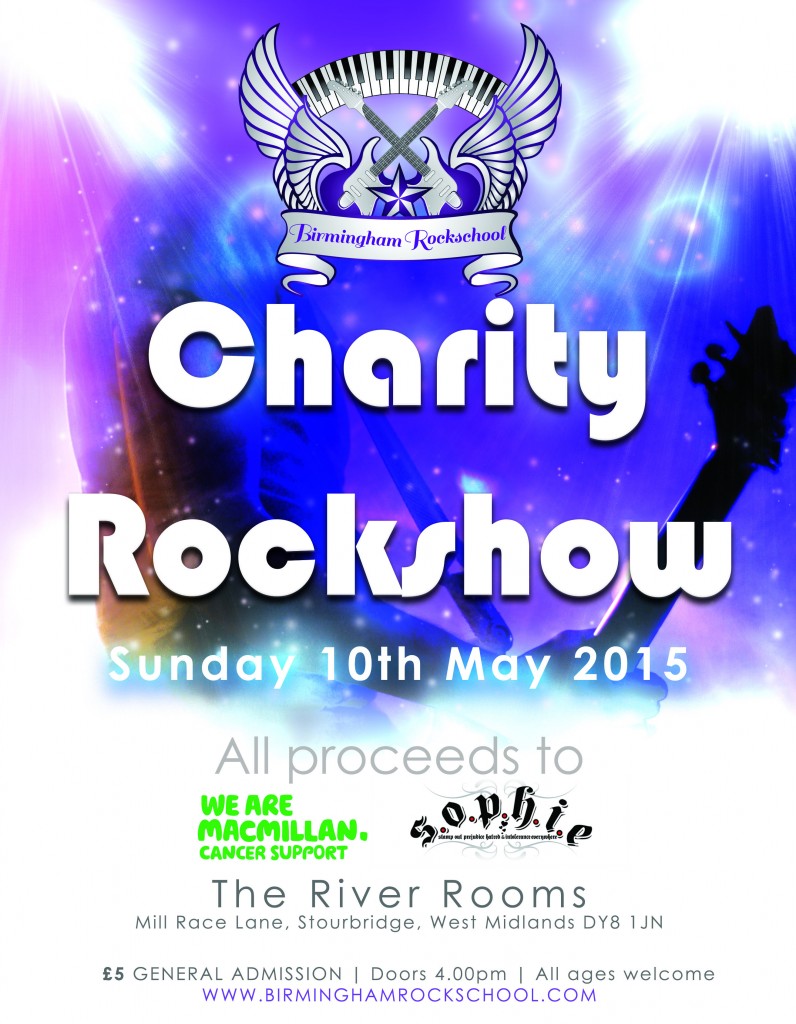 Twice a year, our students and tutors take part in our Charity Rock Shows, where they get to perform on a professional stage in front of family and friends. It's a fantastic experience for them, and it raises loads of money for very worthwhile charities.
So far, we have raised over £7400 for charities including Heart Research UK, Cancer Research, MacMillan Cancer Support, The Sophie Lancaster Foundation, Acorns Children's Hospice and Comic Relief/Red Nose Day.
Here are some FAQs regarding our next Charity Rock Show:
When is our next show?
Sunday 10th May 2015 at 5pm.
Where is it?
The performance will take place at The River Rooms in Stourbridge . As it is a licensed venue you are not allowed to bring in any food or drink with the exception of bottled water for performers.
The River Rooms, Mill Race Lane, Stourbridge, West Midlands DY8 1JN
What time should we arrive at the venue?
We ask that students arrive no later than 4.15pm to ensure that they are warmed up and guitars are tuned up ready to begin the performance at 5.00pm.
How much are the tickets?
Tickets cost £5 each, and all proceeds from this show will be donated to MacMillan Cancer Support and The Sophie Lancaster Foundation  (please click on the links to find out more about where our money will be going). Tickets can only be purchased on the door. Students do not need to buy a ticket.
What equipment do we need to bring?
Guitar students – Guitar, strap, strap locks, plectrums and a tuner if you have one. We will provide an amp and guitar lead.
Bass students – Bass, strap, strap locks and a tuner if you have one. We will provide a bass amp and lead.
Drum students – Drum sticks.
Singing students – Still bottled water.
Keyboard students – Just bring yourself!
My string broke/ I lost my plectrum / I've forgotten one of my drumsticks
This happens to the best of us I'm afraid! We will have strings, plectrums, guitar straps and drumsticks for sale before the show, however if this happens right before your performance just let Sharon or Gemma know and we will provide you with one of our own guitars or find you a spare set of sticks so you're ready to go rock on stage.
What should I wear?
This is one of the most frequent questions we get from new students taking part in their first rockshow. There's no "uniform" or suggested attire for our shows, we suggest you wear whatever you are comfortable in! From full on rock star to cool and casual, the most important thing is that you feel great!
Can I take photos/videos of the performance?
Yes! Though we bring in live music photographers to capture the action, we always invite you to create your own memories of a fantastic night! All students and their parents give permission to be filmed and photographed upon joining Birmingham Rockschool, so if you get a great shot or record an awesome song please share it with us afterwards!
I'm really nervous and I've never been on stage before – help!
It's completely normal to get a little nervous if this is your first (or even your thousandth!) live music performance. Try having a chat with other students to see how they faced any stage fright, or if you feel your nerves are really getting the better of you,  speak to one of our tutors or Sharon and Gemma. Remember that once you're up there on the big stage, you will probably be having far too much fun to worry about anything!
If you have any further questions feel free to drop us a message at info@birminghamrockschool or via our Facebook page.
Keep rocking \m/
Sharon & Gemma